---
Chromatic Payout
Exhibition of Paintings
Chromatic Payoff by David French
at
The Noyes Museum Claridge Gallery, Atlantic City, NJ.
Oct 4th 2018 - January 6 2019.


I have worked to create a bridge between gestural abstraction and process painting. Relational and non-relational painting experimentation has enabled me to nuance a language between mechanical automation and personal expression.
---
Paintings
Sandra DeSanto and David French
Paintings
109 Columbus Dr.
Jersey City, NJ.

Reception June 1 2018. 5-8
Hoasted by JCity Realty. open Monday- Saturday 10-6.
---
"The Artist's Dialogue With Paint"
Beauregard Fine Art

David French,"The Artist's Dialogue With Paint"
Born in England,growing up in the NYC area David French has been exhibiting professionally since 1989. In addition to a great education, BFA Carnegie Mellon, MFA Vermont College of Art, he was able to mentor with world renowned artist Sam Gilliam. His work is particularly sought after right now due to extensive shows in Jersey City, Chicago, Vt, VA, Pa and more. Get the work while it is hot and prices are still affordable.
beauregard gallery is located at the top of the jersey shore in Rumson NJ (109 east river rd), come and visit our charming little town on the edge of "the" two rivers

"David Bowie's Onesie"60"x60",oil on herringbone twill linen
Come and view this energized abstract expressionist work

I have known French for 18 years and his work never fails to wow me. I love the energy of the paintings. These are statement pieces created as a result of years and years of experience painting and working with some of the finest art minds in the world.

Painting to the right

"Matters of Touch".60"x60",oil on herringbone twill linen
Kathleen Karlen Donnelly | Beauregard Fine Art|
732-450-0994
| |
artatbeauregard@gmail.com
| www.beauregardfineart.com
---
54 Bright Street, Jersey City, NJ.Opening of new lux building, View Artist work,
Grand opening of 54 Bright St. Jersey City NJ.

---
Big Small Show
ARTIST RECEPTION WEEKEND: 12/15/17, 12/16/17 and 12/17/17
MEET THE ARTISTS: 1/27/18, 2/3/18, and 2/10/18 from 3-5p
​ THE BIG SMALL SHOW

brings works by over 100 artists from across New Jersey and the NY metropolitan area together at Drawing Rooms, the Jersey City art center. This survey of painting, drawing and three dimensional works completed in the last two years is opening with a weekend-long reception beginning

Friday, December 15th from 6 to 9pm and continuing on Saturday and Sunday, December 16th & 17th from 2 to 6pm.

It's a weekend of art, music, wine, food and a silent auction, and hundreds of people are expected to attend. Admission to The Big Small Show is free of charge, and all artworks are for sale.

THE BIG SMALL SHOW, in its fifth year at Drawing Rooms, features a large array of innovative and exceptional new works and allows visitors to discover artists new to them. The intimate setting of multiple rooms in this converted convent creates a place where art and artists connect with the public and with one another.

Curator Anne Trauben has met with artists throughout the year to select the participants and works. "For THE BIG SMALL SHOW we make full use of our multi-gallery room format to gather a selection of small works from each artist, grouping them in context together with one another, creating visual, formal and conceptual connections, amplifying themes and deepening ways of understanding the works. We are always including artists new to us in this exhibition along with artists who are part of our year-round community."

In time for The BIG SMALL SHOW, a yearbook catalogue spotlighting all of Drawing Rooms' 2017 exhibitions and outreach projects will be published, which will include over 200 artists' works shown this year. Many local businesses are showing support by

sponsoring an ad

in the catalogue. The Yearbook will be featured at DRAWING ROOMS' public events and online

.

Contact

info@drawingrooms.org

to become a sponsor.

Art Auction

​Affordable original artworks from many artists will be up for silent auction at the exhibit. It's a great opportunity to own an original of work of art, find a special holiday present and support Jersey City arts!

THE BIG SMALL SHOW reopens after the holidays on Friday, January 12, 2018 and runs through Saturday, February 17, 2018. The gallery is open Fridays 4 to 7pm, Saturdays and Sundays 12 to 6pm. Special MEET THE ARTISTS Weekends will take place on 1/27/18, 2/3/18, and 2/10/18 from 3-5p all days, where artists and public can mingle in a smaller group setting. Admission is always free.
---
Was&Is exhibition of paintings by David French
---
The Art Project
The Art Project
at The OakMan
160 1st. st. Jersey City NJ.
Friday September 8th. 2017
6-8 PM.



---
Alumnus David French @ Drawing Rooms NJ
Alumnus David French @ Drawing Rooms NJ
April 2, 2017
Alumnus
David French
has his big beautiful paintings on view at
Drawing Rooms
, in New Jersey in an appropriately titled group exhibition.
BOLD AND BEAUTIFUL, 3/10/17 – 4/8/17, curated by Anne Trauben,
BOLD AND BEAUTIFUL is an exhibit featuring drawing, painting, sculpture and installation by Andra Samelson, Anne Trauben, Ben Pranger, Cecile Chong, David French, Jill Scipione, Kathy Cantwell, Patricia Fabricant and Thomas Lendvai, each artist in their own gallery room, who come together to be bold and beautiful in their work, ideas and outlook.
James Pustorino, Director
Anne Trauben, Curator / Gallery Director
Drawing Rooms
180 Grand St
Jersey City, NJ 07302
Grove St PATH
www.drawingrooms.org
---
Painting to Make Sense of Pain: Website review by The Woven Tale Press
Site Review: David French

Painting to Make Sense of Pain

By Richard Malinsky, Arts Editor Submit your website for review by WTP

On his

website

, David French's artist statement begins poignantly: "I was diagnosed with cancer in 2000. Today I am cancer free. This personally painful experience profoundly shaped me as an individual and artist. This event informs my artwork today. I do not try to represent those moments I had. I find myself creating imagery in order to make sense of certain things that have occurred or I wish to occur."

For French, it is the process of painting itself that seems to touch, nourish, and heal his artistic soul. He equates the physical organic quality of oil paint—its fleshy, visceral consistency—to the body, and the painting surface to skin.

The site is organized into six major series of paintings. In

Nights Liquid,

the first series

,

French employs metallic pigments to symbolize Cisplatin, a platinum-based drug he received in his chemotherapy. He explores the paradox of this drug, at once a toxic metallic poison and a giver of life. In "Between Two Cities," massive black forms ominously descending downward are surrounding by a small area of bright color–perhaps a symbol of hope:
Between Two Cities (Nights Liquid Series)
, David French, 2015. 
Oil and spray paint on twill linen, 
76″ x 82″
In his successive series on the site,
Monochromes, Union
, and
Triads,
French explores the relationship of the subjective artist to the essential elements of painting—the paint on the surface proves as important as the artist's guiding hand. There is an uncluttered freedom and celebratory statement in "Untitled":
Untitled (Monochromes series)

, David French, 2016. Oil on twill linen, 60″ x 60″
In the
Union Series,
a secondary color is blended to create tertiary colors and to a visually rhythmic effect. The motion in "La Rue Montorgueil (after Monet)" was achieved with a squeegee-like applicator:
La Rue Montorgueil (after Monet) Union Series
, David French, 2015.
 Oil on twill linen, 60″ x 60″
Triads
is perhaps the most textured of his series, with the application of thicker paint and greater blending techniques, as in "Better With You
"
:
Better With You (Triads series)
, David French, 2015.
 Oil on linen, 28″x 28″
And as to range of color, this series is also the most varied. Overall, primary color predominates, a quite purposeful and for French, quite meaningful, choice: "The essential painter's toolbox consists of the flat surface, red, yellow, blue and white. I think of my interaction with these basic materials as a collaborator. I equate my action to those tool box components, everything contributes proportionally. The pallet is skipped in these works, in an effort to work more directly with the essential materials. By working in a manner where I do not represent something, I touch on the very essences of painting."
While painting appears to be his primary medium, on his site he also includes a quite impressive portfolio of outdoor sculptures.
Wake
, David French, 2006. Steel, post industrial, 62″ x 54″ x 52". Permanent Installation Atlantic City NJ. AC Waterfront Sculpture Walk.
Overall, his website presents a triumph over adversity and the celebration of a new beginning.
Copyright 2017 Woven Tale Press LLC. All Rights Reserved.
---
A Dark Wood at The Noyes Museum
January 13 - April 23, 2017
NOYES GALLERY I
Free Opening Reception:
Second Friday
, February 10, 6:00 - 8:00pm
"Midway this life we're bound upon,
I woke to find myself in a dark wood,
Where the right road was wholly lost and gone"
- Dante Alighieri, The Divine Comedy
A Dark Wood
explores the theme of being lost in the darkness of our fears, doubts and negativity. Dante
Alighieri, the 14th century Italian poet,
began
The Divine Comedy
with a character who has lost his way in "a dark wood." It is a metaphor not only for a crisis of faith, but a crisis of humanity. He has lost his spiritual compass, even how to be with and treat people. His character must survey the punishments of Dante's taxonomy of evil before he is able to find a way to even a dim light of hope. There are many aspects of the dark wood and the artists presented in this exhibition interpret the richness of the concept through a range of media and methods.
A Dark Wood
was originally presented by
Art House Gallery
and
Curious Matter
in Jersey City, NJ
---
Exhibition "Bold and Beautiful"
BOLD AND BEAUTIFUL, 3/10/17 - 4/8/17, curated by Anne Trauben, is our initial 2017 response to the current challenges we face in this country. BOLD AND BEAUTIFUL is an exhibit featuring drawing, painting, sculpture and installation by Andra Samelson, Anne Trauben, Ben Pranger, Cecile Chong, David French, Jill Scipione, Kathy Cantwell, Patricia Fabricant and Thomas Lendvai, each artist in their own gallery room, who come together to be bold and beautiful in their work, ideas and outlook.

Artist Reception for BOLD AND BEAUTIFUL on Sunday, 3/12/17, 3-6p, is Free and includes wine and light snacks. Please join us to see this exciting show.

Drawing Rooms
180 Grand St
Jersey City, NJ
Grove St. PATH
Gallery Hours:
Fri 4 - 7p
Sat / Sun 12 - 6p
— with Andra Samelson, Jill Scipione, David French, Kathy Cantwell, Thomas Lendvai, Anne Trauben, Ben Pranger, Cecile Chong and Patricia Fabricant at DRAWING ROOMS.
---
Aedra Fine Arts Interviews Artist David French
DavidFrenchFineArt.com
AFA: With well over 60 exhibitions, including at least 15 solo exhibitions, and notable public works, where do you get the drive for your achievements?
David French:
The drive comes from numerous places, and at different times. The moments of awareness and discoveries that happen in the studio where I am rewarded with results are most notable and drive me on to make more. I am a cancer survivor. That experience changed me forever and lit a fire. The overarching drive is existential in nature I assume. I.e. I am not infinite. I will die. I was here. I share this with you. Painting is a location for my /our humanity and our shared histories and feelings. The drive also comes from empirical, formal explorations and curiosities.
These things motivate me more than say achieving a significant exhibition or placing artwork with an important collector. Those professional achievements are fantastic moments in and of themselves. They occur after periods of hard work, I am happy when they occur and are very important and should be celebrated. I work hard towards those kinds of goals and there is a certain amount of success that drives me on. While I am motivated to work towards goals of both, bodies of works or certain exhibitions in the future, it is in my studio where the majority of the drive and inspiration comes from.
AFA: The art is beautiful and contains a raw energy of streaks, giving these compositions a life of their own. Explain to the reader where this instinctive nature comes from.
David French:
I believe my work draws strength from allowing myself to be taken in unforeseen directions by my interaction with materials and surface. Instead of crafting the materials to my will, I set up conditions where certain events might take place, or are more likely to take place. This collaborative approach to the materials yields dynamic surfaces that truly do have a life of their own. The streaks are a result of me wanting to create space and compositions fairly quickly over large areas, using tools like large house brushes, knives, sticks, boards, spray-paint etc. Working in a spontaneous and improvisational manner, I attempt to capture particular moments in time. There are areas in my painting that in order to achieve certain qualities I must step out of my head, not think, feel, and let my body do the work. I seek a balance of critical thinking and raw physical interaction. When I over think a painting it becomes dry and seemingly uninspired. Conversely when I am overly gestural the work seems out of control and uninformed. Surfaces come alive when I achieve a certain amount of balance between these two things.
Thank you for calling my work beautiful.
AFA; Your art can be quite large, what are the relationships between size and the scope of your work?
David French:
These are two very different but not totally unrelated things. My large work is large because those particular art works need to be that scale to function in a certain way. Conversely smaller works need their particular scale. One aspect of my paintings function comes from their physical relation to a viewer. When one experiences a large scale work, they are enveloped or enter the work. They experience something larger than themselves. This obviously has a very different effect on a viewer than say a small piece, where the viewer approaches the work. Smaller works have a less imposing presence in relation to a viewer and the space they are installed in. Generally one stands physically closer to a smaller scale piece. It's a different kind of communication, a different kind of perception, a different kind of intimacy with a viewer. Often my larger scaled works are compositionally simpler than the smaller ones.
AFA: Colors and brushwork are key components to your work, how do you make your color schematic choices and what are your aims with your brushwork?
David French:
Color and brushwork are vital to my work. In my Triad color painting series I am most interested in staging a celebratory and investigative relationship between the essential parts of Painting and me the artist, agent. The essential painters' toolbox consists of the flat surface, red, yellow, blue and white. I think of my interaction with these basic materials as a collaborator. I equate my action to those tool box components, everything contributes proportionally. This unit approach to making an image produces "pure" color surfaces that are always divisible and changeable. If you see green for example, it exists because it is the product of my action of mixing blue and yellow on the surface. The effort in blending yellow and blue, making green, together with its obvious optical chemistry becomes the content of the work. The pallet is skipped in these works, in an effort to work more directly with the essential materials.
In my Liquid Night series, color choices are arrived upon in a very different way. They have not been given to me, by the "Institution of Painting", but are highly selected. Hot pink, aluminum, black are selected more for autobiographical reasons. These works tend to be more personal, emotional and less theoretical in regards to color and brushwork.
My Monochromes painting series focuses on one single color in isolation. This reduction shifts attention to not only the pure saturation and graphic effect of a single color but the texture and brushwork that support that color.
In all these different groups of paintings, the brush work supports color in its creation, and in its presentation. Brushwork is often used as an indicator or register of illusionistic depth. Brushwork can also be utilized to create texture, pattern and register my facile human hand. You can see my "artistic" touch most in the brushwork. In order to accentuate that brushwork as human touch I often set it in contrast with more mechanical paint applications, like spray paint or squeegee for instance.
AFA: If your paintings could tell a story, what would it be?
David French:
I am searching for the best way forward in a beautiful and fluid foreign surrounding. Things occurred, are still occurring, and have yet to occur. I think of my work in relation to this phenomenon. We can only perceive a small slice of what is happening around us. My work appears to have been frozen in time, coming from somewhere, maybe just out of the picture plane and about to move forward past that moment. The work draws strength from this juxtaposition. I hope that the experience in viewing my artwork will revolve around this particular sense of heightened awareness.
If my painting could tell a story, the story would obviously not be a liner narrative. Unless you can consider somehow having read an entire story, or seeing a movie compressed into a single moment in reverse. The painters' greatest gifts are that of slowing down moments. Compressing what may have taken a long period to create and essentially serving it all up in a moment. In my painting you see dramatic events in reverse. You see on the surface, the ending moments of a painting, the actual beginning or first part of a painting is seen as the furthest back and often buried in an image. You're looking at the final scene of a personal struggle or exploration.
AFA: What is the social contexts of these vibrantly colored, kinetic, contemporary painting?
David French:
That's a very good question. There are many other forms of artwork that registers the social in a more obvious ways. Abstract art or non-objective art has been accused of being exclusive or only for the educated consumer, cold, hard and distant, reductive, utopian even. However I don't believe that is true anymore.
I am very interested in how my work functions socially. I am always seeking to have greater reciprocity. Contextualizing abstraction in regards to the social can happen in a number of ways. Most obviously in my experience is how it functions in its final location. Being over someone's couch or in a corporate lobby isn't a bad thing. Individuals and their lives can be affected by the artwork they surround themselves with. I'm honored when people design a room around one of my paintings and when a corporation selects my artwork to activate a space. Positively affecting the people and architecture that interact with my work are all great social forums for the work to act upon. The work has agency long after I created it.
In terms of contextualizing the work itself to the social, I bring outside references to my work in order to open the work to the social. I often point directly to familiar source material. I've made a painting about a masterpiece painting that hangs in the Metropolitan Museum of Art in NYC. I've made work about alcoholic drinks I enjoy. I explore my impressions of David Bowie's song "The Rise and Fall of Ziggy Stardust". The social can be registered with a title, like "My Grandmother Doesn't Wrestle But You Should See Her Box". I use metallic pigments in my Nights Liquid series where I consider Cisplatin, the primary type of chemotherapy I received. Cisplatin is a Platinum based drug, invented by mistake in 1975 by Barnett Rosenberg at the National Cancer Institute. Luckily for me and others, Cisplatin the first of all the chemo drugs, provided a second chance, despite the drugs damaging effects. A metallic poison as giver of life and second chances interest me in these artworks. Using metallic paints are not only for an autobiographical reason, but as a physical and literal way to include the environment and context in which the work is displayed, within the work itself. They are slightly interactive in the sense that when viewed, one experiences shifting and reflective light. This physical property of reflection can change with a viewer's perspective as well as the environments changing ambient light. In these works if you're standing in from of them with a bright color shirt for example, you may see that color reflected on the surface. In that sense these works become socially interactive.
I am also offering a shared experience. My visual explorations, my agency, my mistakes can be re-experienced when traced by the eyes of viewers. You can see my touch and visually re-experience the act in my painting. In this sense they are social as well. Because everyone brings something different to the artworks reading, they are never truly finished until viewed. I make hits or suggestions but it is the audience that completes the work. Abstraction draws strength from this social ambiguity.
---
Primarily Speaking
Art Exhibitions

Red Bank voted Favorite Downtown Art District

Along the interior of The Oyster Point Hotel hang the photographs, paintings, and stories of some of our favorite local artists. Every two months someone new will have the chance to showcase their work on our walls. Each new artist will be introduced to the public with an Artist's Opening Reception; the details of which will also be posted right here! We encourage fellow artists, enthusiasts, and collectors to pay us a visit, as the exhibits will be available to view at your leisure. You may access information on past exhibits

HERE – ARTIST ARCHIVES

.
---
DAVID FRENCH
PRIMARILY SPEAKING
The exhibition will last from November 4 through January 1, 2017.
"The Oyster Point Hotel brings talented artists to a broader audience, hopefully widening the appeal of art beyond galleries and museums. I am trying to expose fine
art to more people by carefully curating exhibitions at unusual art venues." Gerda Liebmann, curator.
David French (born 1965, England) lives and works in NJ. He has been exhibiting artwork professionally since 1987. He had the opportunity to pursue his love of visual art at Carnegie-Mellon University and Vermont College of Fine Art. He further was mentored by D.C. based color-field artist Sam Gilliam and NYC artist/writer Mira Schor.
David French: "I was diagnosed with cancer in 2000. Today I am cancer free. This painful experience profoundly shaped me as an individual and as an artist. This event informs my artwork today. I do not try to represent those moments I had, but I find myself creating imagery in order to make sense of things that have occurred, or, I wish to occur, to come to terms with the unknown.
I choose to work with oil paint primarily, because of its fluid, fleshy, visceral and organic quality, that are not unlike the body. The painting surface is a skin, the illusory depth a body in space."
"In my Triad color painting series I am most interested in staging a celebratory and investigative relationship between the essential parts of painting and me the artist. The essential painters' toolbox consists, primarily speaking, of the flat surface, red, yellow, blue and white. I think of my interaction with these basic materials as a collaborator. I equate my action to those tool box components. Everything contributes proportionally. By working in a manner where I do not represent something, I touch on the very essence of painting."
David French
from
Gerda Liebmann
on
Vimeo
.
The Artist's Opening Reception will be held
Thursday, November 10th from 7-9 pm
146 Bodman Place, Red Bank
732-702-3145
---
Gerda Liebmann will be curating exclusively for The Oyster Point's exhibitions.
"I am excited to be part of The Oyster Point Hotel and it's contemporary approach to art. It is a rare delight to have a hotel reach out to the art community in a serious way."
Gerda Liebmann attended the Kunstgewerbeschule in St.Gallen, Switzerland, where she studied graphic design. She came to the United States in 1981 and founded International Print and Design, a studio specializing in design services for global high technology companies. After retiring from the company to raise her two sons, she shifted to the fine arts.
Gerda works primarily in encaustics, but also in large scale acrylics. She specializes in installation pieces that invite viewers to consider scriptural themes in new ways. Her work has been exhibited internationally in China, Austria and Germany and Switzerland. Recently, she has been working in digital photography and video as well, winning an award for her short video "A Line in the Sand" at the FilmOneFest.
She has curated exhibits in Red Bank at Gallery135 and in Hong Kong at the Culture Center.
To see more of her work, visit
www.GerdaLiebmannArts.com
You can contact Gerda at
liebmanng@yahoo.com
.
---
Accumulating Experience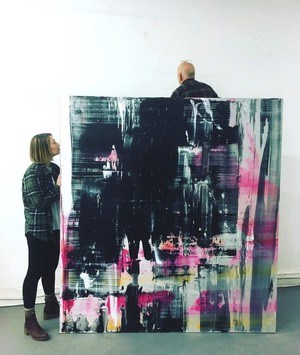 OPEN DOORS
CITYWIDE ARTS FESTIVAL
AND
Accumulating Experience



Open Doors Events: October 19-23




Exhibition dates: October 19-November 11



UPCOMING EXHIBITION EXPLORES THE EXPERIENTIAL THROUGH KEY WORKS BY APPROXIMATELY 17 ARTISTS, AS A PART OF OPEN DOORS: CITYWIDE ARTS FESTIVAL, NEWARK, NJ

Opening on October 19, the exhibition Accumulating Experience will introduce audiences to work that addresses the common bond between all of humanity–the experience. Curated by Betty Jarvis, M.A., Art History, Rutgers the State University of New Jersey, New Brunswick, the exhibition is part of the Open Doors: Citywide Arts Festival organized by the Newark Arts Council and Gallery Aferro.

Participating artists include: Sahar Safarian Barahlou, Milcah Bassel, Lydie Bemba, Sharela Bonfield, Melanie Carr, Saleena Chapple, Julia Forrest, David French, Maria Liebana, Pascha Marrow, Lisette Morel, William Norton, Megan Porpeglia, Diana Jean Puglisi, Rocco Scary, Amanda Thackray, and Joel Weissman

"Experiences are inherently personal. They actually occur within any individual who has been engaged on an emotional, physical, intellectual, or even spiritual level… the value of the experience lingers in the memory… People greatly value the offering because its value lies within them, where it remains long afterward." – James Gilmore and Joseph Pine in The Experience of Economy

In the quote above, economists James Gilmore and Joseph Pine discuss the experience as a viable supplement to any traditional consumer good or service, elaborating on the value increase that can occur when a person is given that extra embellishment along with the originally purchasable product. The importance and additional, lasting benefits of an experiential sensation is underscored. And while they are correct in their assessment of the experience as "inherently personal", there is also another facet of the experience to consider. The artwork in Accumulating Experience argues for the importance of exploring the other side of the "inherently personal"–the inherently communal and accessible.

Experiences, moments, happenings, and exposures are part of the condition that makes us human. But what is constituted as experience, is it a singular occurrence, or a permanent manifestation? Can something so internal as psychological response to an experience be shared? And if it cannot be collective, then are we really bound by a singular occurrence? How much of our reaction is determined by our immediate culture? Can we connect with those who are seemingly far outside of our personal dialogue? Accumulating Experience introduces artists and artwork that aims to investigate these questions, illuminating the multi-faceted and illusive experience.

This exhibition explores the ways in which artists use, and build on their observations of human nature, navigate personal identity, span perceived cultural boarder divides, and create intimate connections between individuals. It emphasizes the necessity in thinking beyond the momentary, singular impact of an experience and deeper, towards the indirect effects that resonate outwards, creating a communal link between humanity. Many of the artists included in Accumulating Experience embed an enticing quality within their work that is meant to illicit personal engagement with the viewer, however fleeting, in order to deepen the connectivity of humanity. As a work continues to engage, mesmerize, or confound, its own meaning has the opportunity to grow and develop.

Accumulating Experience probes the resonating, amassing experiences that touch everyone's lives, that is, the personal lasting effects that an event may have on us, and the ephemeral properties that radiate through the very instances of us being truly present and engaged by an artist and their work. Many of the artists explore the potential depth of a transient, yet lasting moment, using this as their impetus to creation. It is my hope that the ability to think of an experience as, not only "inherently personal", but also inherently communal, emphasizing the desire these artists have in connecting with their viewers so that there is a dialogue and something shared.

Visitor Information:
Accumulating Experience
75 Market St.
Newark, NJ 07102

Accumulating Experience is free and open to the public.

Open Doors Events: October 19-23
Exhibition dates: October 19-November 11

About The Newark Arts Council's Open Doors Citywide Arts Festival
Held on October 19-23, 2016, Open Doors welcomes residents and tourists to participate in Newark's biggest festival of the visual arts and other art forms. For four days, Newark's bustling arts scene will explode with an array of exhibits, talk-backs, performances, street displays, studio open houses, and more. The citywide arts tour and community event celebrates Newark's unique and diverse contributions to the arts and to American culture. More than 40 venues will join forces to showcase visual,
performing, and literary art. In 2016, the festival will run concurrently with the Dodge Poetry Festival and the Newark Celebration 350, which marks the city's 350th birthday. Watch this space for coming details on Newark's biggest October extravaganza ever.

For more information please visit the Festival's website: https://newarkarts.org/opendoors/ or contact the exhibition curator, Betty Jarvis, at bettyjarvis16@gmail.com.
---
A Dark Wood
A DARK WOOD
October 8 @ 3:00 pm - December 9 @ 6:00 pm
October 8 – December 9, 2016
Please join us for a special two-location exhibition featuring 34 contemporary artists presented by Art House Gallery and Curious Matter. A Dark Wood opens the weekend of October 8 & 9, 2016, during the Jersey City Art & Studio Tour. Both galleries will be open noon to 6pm during JCAST.
Art House Gallery & Curious Matter will each host a special reception with the artists. Refreshments will be served.
Opening Reception at Art House Gallery
136 Magnolia Avenue • Jersey City, NJ
Saturday, October 8, 2016 from 3 to 6pm
Opening Reception at Curious Matter
272 Fifth Street • Jersey City, NJ
Sunday, October 9, 2016 from 3 to 6pm
THE ARTISTS:
Art House Gallery — Meg Atkinson | Aaron B. | Milcah Bassel | Daniel A. Bruce | Emanuele James Cacciatore | Peter Everett | David French | Ethan Hamby | Jee Hwang | John Keefer | Ross Bennett Lewis | Dave Mishalanie | Nazanin Noroozi | Ben Pranger | Jon Rappleye | Anna Riley | Robert Schatz | Jill Scipione | Philip Swan | Lisa Taliano
Curious Matter — Arthur Bruso | Jessica Demcsak | Jang Soon Im | Casey Inch | Dae Young Kim | Todd Lambrix | Joan Mellon | Daniel Morowitz | Sarah Pfohl | Jon Rappleye | Clark Rendall | Dept. of Reparative History | Linda Kamille Schmidt | Linda Tharp